DESERT FOX
Regular price
€139.95 EUR
Regular price
Sale price
€139.95 EUR
Unit price
per
Model is wearing size 110/116, and is 118 cm tall.
Free shipping above 150,-
Order before 12:00, shipped out today
DESERT FOX | trellis green
Best-selling waterproof parka DESERT FOX is back in new colours. The faux fur lining and medium padding make this style super comfortable and easy to pair with any outfit. The combination of technical details and a classic silhouette make this style perfect to be worn from city life to outdoor adventures and back.
WATERPROOF PARKA
All seams have been hermetically taped so no water can penetrate the garment. This breathable material has a waterproof coating up to 8000mm column pressure to endure heavy rainfall. An extra durable Bionic finish® water repellent has been applied so that water simply glides off the material. Please note that the finish has to be maintained once in while with our eco-based water repellent finish + wash by Organotex to maintain full effectiveness. Both available in our shop.
Specifications
Waterproof rating: heavy rainfall
8000mm column pressure
Taped seams
High performance material Dense Micro Twill
DWR Bionic finish® Eco; the deep water-repellent component used is based on a fluorine free recipe
Soft faux fur lining
Invisible magnetic closures at front and pockets
Zipper underneath the front placket
Reflective safety strip in the small pocket at back of garment
Adjustable cuffs
Reflective safety strip in the small pocket at back of garment
All our garments are BPA + AZO free and certified with all child safety regulations
No animals are used for these products
Sizing Information
All garments are based on EU standard sizing. As age and size can differ across countries, we advise you to measure the height your kid to find out the correct size. For instance, if your child is 114 cm tall, choose size 110/116. In cases where your child falls between two sizes, consider selecting the larger size to ensure a comfortable fit as they continue to grow.
Anatomy of the DESERT FOX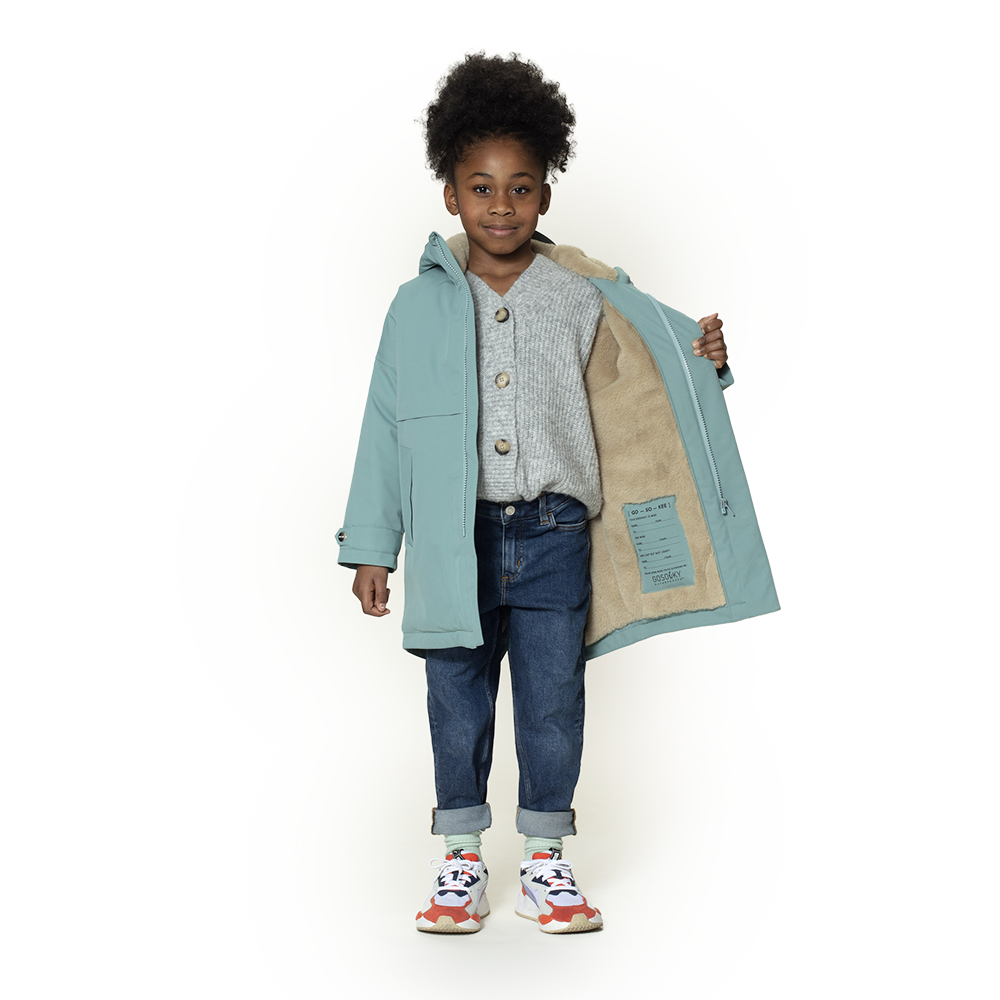 BIONIC FINISH®ECO WATER REPELLENT
REFLECTIVE VISIBILITY STRIP
I am sending it back because too small I bought one size bigger ! Very pleased with the coat
Great coat
Perfect quality. My son love it !
Do NOT online shop with Gosoakey!!
Bought a Jacket online from Gosoakey's official website. The product and website looked absolutely premium. During purchase I was charged premium shipping. I thought, okay, it will arrive quickly at least. But what I did not know is that all items you purchase from Gosokey's offical website are being shipped from the Netherlands and I am based in Berlin (it was obvious at all I am buying from abroad). Unfortunately the jacket did not fit my son and I had to return it. There was no return label (which is a legal requirement in Germany) and I had to pay €21 to return it at own costs!! With premium shipping it was more than €30 to buy and return the jacket. And after two weeks of having returned the jacket I have still not received back the €150 i payed for it. For a premium brand like that… terrible. Do not shop there. Worse experience ever.
Hi Katharina,
How unfortunate that you've had a negative shopping experience with us, our apologies! Our customer support got in touch with you so we can solve this issue!
Love,
Team GOSOAKY
crumpled fabric
I am a fan of gosoaky but with a new order for my daughter I realised that the fabric changed (stiffer) and the creases don't disappear. I would recommend to buy the darker colors as they are not so visible on them.